DIY Spa Night: Have a Couples Spa Date Night at Home with This Guide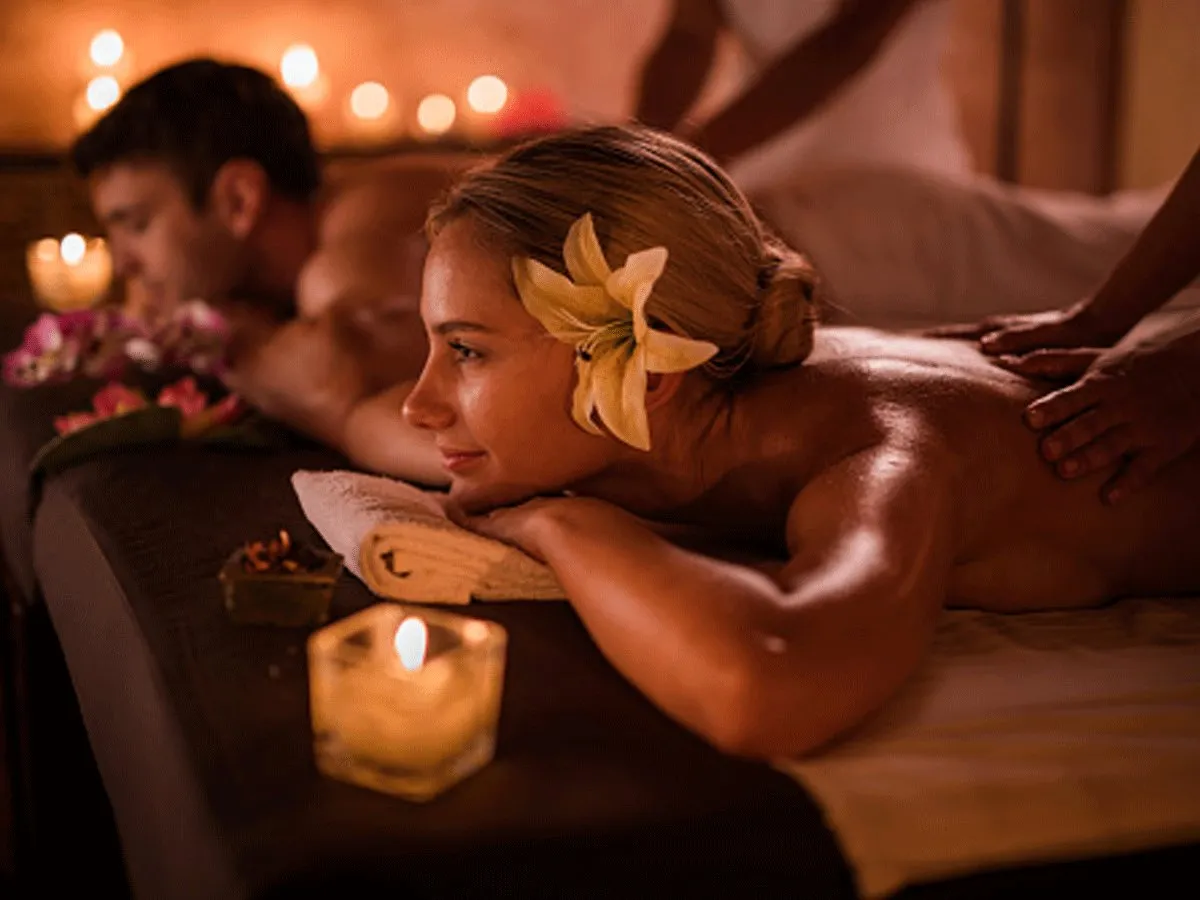 So you want to feel pampered but you're not about to go out and spend a hundred bucks. You decided you'll stay at home and try something different with your significant other. What do you do?
An at-home spa date night is the perfect in-between for a cheap date night.
It's been a rough week but the weekend is yours. A normal weekend would usually involve vegging out and binge-watching Netflix, yeah? What if you used that free time to DIY a couples spa night.
Imagine how relaxing it would be pampering each other. Not a care in the World. Just you and your significant other soaking up the good vibes and enjoy each others company. That's what we're going for in this guide to having a relaxing spa night at home with your boyfriend or girlfriend.
Psst. If you do end up buying something we've linked we'll earn a small commission. This helps us keep the lights on so we can keep creating guides like these 😉
Part 1: The Spa Date Night Schedule
You can technically do the spa night at home by yourself if you wanted. But, this definitely goes better when you're spending it with someone special.
Pick a time when the two of you don't have obligations and won't get interrupted.
Then, think of the spa schedule and what all you'll do — like:
Massages. Learn how to give a great massage and make this one of your main activities. Undress, oil up the areas, and work out those kinks and aches. Take your time and communicate what they enjoy. And, try different parts of the body like hands, feet, neck, back, and others.
Soaks. It could include your feed or hands or go full-body. You could draw a hot bath and go with the basics or add bubbles, oils, salts, and scents. A bath bomb is a good choice because we both know you probably have a dozen somewhere in your home.
Masks. Make a DIY face mask, or store-bought sheet mask, or use one of your favorite products. Slice a cucumber for the eyes as you see in the movies and go in a crisp glass of water. Try a few different masks beforehand to find which you two think is best for the spa night.
Cuddles. Figure out the space so you can position your bodies for optimal cuddles. Or, at least know the space so you can be close without smothering another.
Take a gander at spa packages and see how you can replicate them at home. These packages usually involve activities like: aromatherapy, deep tissue massages, facials, relaxing, and even mani-pedi's.
Part 2: Make the Spa Kit
Want to prep the at-home spa date the night before? You can put together a DIY spa kit so you're ready to start relaxing instead of getting tired gathering up everything.
For the DIY spa kit, we'd recommend:
A cute container
Shower gel or bubble bath
Bath bombs
Body lotions
Face masks
Salt scrubs
Candles or diffuser oils
Scrub bars
Foot soaks
Eye mask
Body butter
A lot of these scrubs can be made at home with a bit of Epsom salt and essential oils. Pink Himalaya Salt seems to be the rage these days.
Your little DIY relaxation kit could also include an exfoliator using sugar and oils. A touch of caffeine from green tea mixed with water and sugar can make your skin feel tingly and alive, too!
You can find spa kits online, too, that aren't too expensive considering you'll use them for a second, third, or fourth spa date night. We found this one that's affordable:
You could also go a little exotic by trying different items from around the World. The Korean spa products are a huge hit and certainly something different from what you're used to.
Even just using what you've got already can make for a wonderful, relaxing night!
Part 3: Set the Mood
The mood is probably one of the biggest parts of making your own spa date night at home. This usually comes down to the lighting, music, and overall vibe of the night.
What can you do to set the spa night mood?
Chill music. Pick music that's ambient or something groovy without words. Nothing too upbeat, just slow and melodic so it's just enough to add some mood but not enough to distract. We like genres like lo-fi or using a favorite soundtrack since these usually don't have lyrics.
Low lights. This is where candles come in if you've got them. Else, turn on lights from an adjacent room and let the light shine in. This keeps the room semi-dark but not where you'll run into another or fall asleep from relaxing too much (haha).
Clean room. Clean up the room before you want to start relaxing whether this is the bathroom, bedroom, living room, or patio. You don't want to get the urge to clean when you're meant to be relaxing. Plus, you don't want random gunk sticking to you when you're supposed to be clean.
Nice smells. Scented candles and oils will do the trick, here. Pick something you both would enjoy or go with the classics like vanilla, lavender, or ocean breeze. You can theme the smell and really get that aromatherapy going by matching it with the body products you're using, too!
Good snacks. Things like chocolates, strawberries, whipped cream, and other foods and snacks we pair with romantic dates are perfect for this night. You want something easy to pick and snack without making a mess. But, also have something you tantalize another.
Keep playing with the format until you've got the spa night you have in your head.
Part 4: Enjoy the Romance
Put whatsoever is on your mind on hold and enjoy living in the moment.
You probably don't get to do a spa date that often to begin with since it gets expensive. You also don't get a lot of free time with your loved one so you're not stuck doing afternoon errands. So, relax and enjoy each other's company, the mood, and a glass of wine and some snacks.
Soak in the tub until your fingers turn prune-y. Feel all those aches and pains disappear with a nice, deep-tissue massage. Enjoy how nice your skin feels after a healthy slathering of lotion or oils.
And, see where the night takes you (if you know what we mean).
Bonus Spa Night Ideas for Couples
What else could you add to the at-home spa date night? Try something like these:
Try massage oils in place of lotions
Warm your towels in the dryer for extra toasty-ness
Use the time to exfoliate those hard-to-reach spots
Close off the area to get it steaming (great for your pores)
Add smells with a diffuser or scented candles
Shave one another (all over)
Give a great shoulder and/or foot massage
Keep your electronics turned off — no phones!
You could experiment with the spa night format by adding fun activities. Or, adding a little professional touch by packaging the DIY spa kit and gifting it when they'd appreciate it.
What's Your Ultimate, Romantic Spa Night At Home?
Spas are pretty pricey even if you go for the local deals. Plus, you're somewhat confined to the dates and we all know life gets the best of us and before we know it the date slips by! So yeah, maybe an at-home spa night is exactly what you and your SO need during a busy, hectic week.
And, definitely make this a part of your #relationshipgoals!
What ideas and suggestions would you add to this guide? Leave a comment and let us know!
So you want to feel pampered but you're not about to go out and spend a hundred bucks. You decided you'll stay at home and try something different with your significant other. What do you do? An at-home spa date night is the perfect in-between for a cheap date night. It's been a rough week…