60+ Fun Date Night Activities That'll Create Ever-Lasting Memories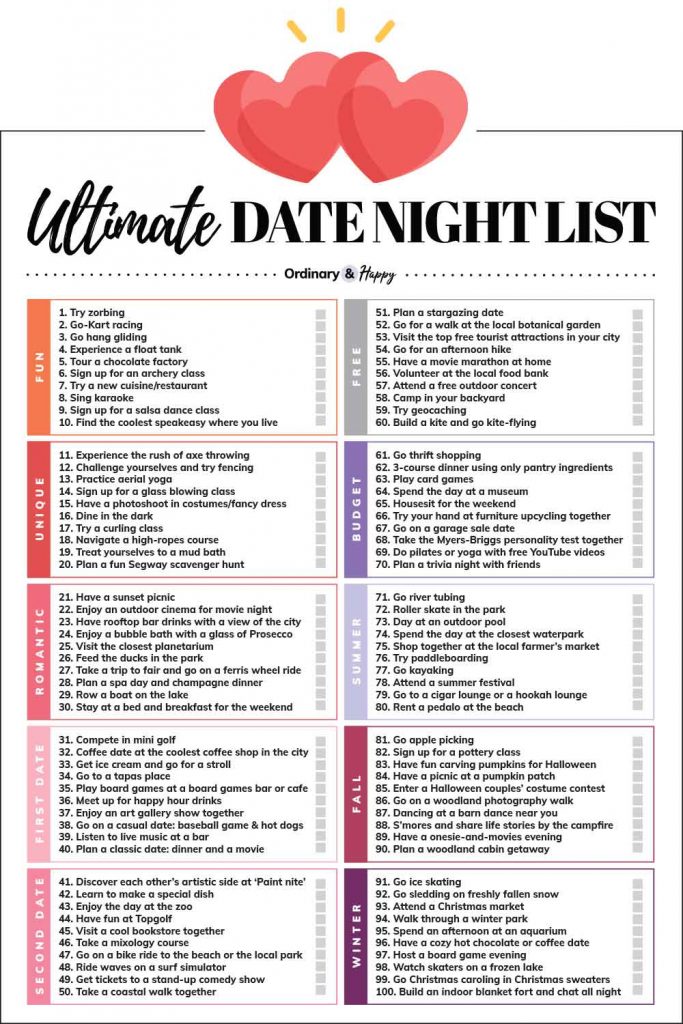 There are plenty of date night activities when you think outside the box.
You could search for something to do near you or just stay at home so it's cheap. Whichever decision you make, we're sure the two of you will have lots of fun just being in each other's company!
To us, the most fabulous date nights are often the one's you never expect.
You just kind of go with the flow of the night. This could lead the two of you off on an adventure, exploring things you never thought you'd get into.
It's in these moments you create amazing memories.
So, for that reason, we wanted to share a couple different activities you can do on a date night that'll make it unforgettable – the type of outing (or inning) that'll have you smiling just thinking about it.
Let's get it started…
So, Nicole and I are trying to think and recall all the fun date night activities at home we've had. There are a lot because our schedules are pretty wild (she works most early mornings, I work mostly night).
Here's what we came up with:
Go to Lowe's or Home Depot and just pick and start a home improvement project
Visit a farmer's market and pick one ingredient you haven't used to make something delicious
Try doing a weekly game night with fan favorites like Monopoly or Scrabble
Get a bit crafty by digging through old photos and create a photo album
Head out on a hot date and get some real ice cream from a local shop
Pub trivia is quite a fun time especially if they have live music in between
Did we mention bowling? Because that's what we love
You can't go wrong with skeeball and air hockey at your local arcade
When the weather permits you could go on a hike or nature walk
Your phones are probably good so why not try amateur photography
Do a tourist of your own city by picking some new district and exploring
Have a nerf gun war or water balloon fight
Get a good laugh in by visiting a comedy bar
Have you tried kayaking? It's totally awesome and thrilling
Sip a couple of suds by doing a brewery tour or try a new, trendy bar
Catching a double-feature at a drive-in is cheap and fun
Try any type of craft project by visiting a hobby store and picking what interests you
Is the carnival or fair in town? Check out their discount night for cheap fun
We like going and picking out a new plant we could add to the apartment
A weekend trip to a local town or getting out of the state sounds fun, right?
You can go super cheap with daytime movies for a fraction of the cost
A picnic at your favorite park on a good day is about as romantic as it gets
Try out a cooking class to up those skills and learn something new in the kitchen
Get a bit frisky and visit an adult shop and pick something out for another
A lot of these become free date night activities if they're in public spaces or if you're just window shopping.
You could check with daily deals sites, too, to make them super cheap, too.
We like to do something at least once a week. We afford this by making sure to cook at home and budget. This lets us maximize the outings we have without feeling guilty we're spending money.
Do a search for "date night activities near me" and you'll probably get a bunch of Google listings of neat places to eat, parks, and generally hip locations others tagged during their date.
Nicole and I are around Orlando so there's quite a lot to do once you begin exploring the options.
Some ideas Google kicks back are a bit outside our budget. But, like with crafts, we tend to look at them as a fun challenge to recreate the date night the way we like it.
I'll bet there are at least these options for date night ideas around your area:
Movies
Food truck rallies
Drive-in theaters
Arcades
Zoo
Theme park
Shopping
Volunteering
Game meetups
Record shops
Book clubs
The library
Anime clubs
Shadow plays
Roller derby
Dance classes
Camping
Berry picking
Cat café
Wine tasting
…and the list goes on and on!
One of the most fun date night outings, in our book, is catching a tribute play of Rocky Horror. If you haven't gone… wow, you're in for a treat!
You could do a double-date, too, with a couple you know. This is one of our go-to date activities because our friends know the area better. They know all the cool spots to get a bite to eat or just soak up the local lifestyle through people watching.
Nicole and I aren't married (yet) but we can make a few guesses of what date night activities married couples would probably enjoy.
This could include things like:
Car shows
Ceramics classes
Water coloring
Brewery tours
Ziplining
Art museums
Burlesque shows
Dinner train rides
Visiting a pet store
Thrift stores
Bike rides
Corn maze
Sports event
Photo shoots
Beach trips
Karaoke
Plays and theater
Cultural event
Yoga classes
Diners
Scenic drive
Geocaching
You've gotta keep that fire in the relationship kindling especially if the kids left the roost. So, rediscover what you love about one another. And, enjoy your date night activities together.
We're sure this list could go on and on and on… but let's hand it over to you.
What are the date night activities you love doing with your loved one?
What are those unforgettable moments?
Share your thoughts and ideas in the comments below – and, share it with someone you want to do them with!
There are plenty of date night activities when you think outside the box. You could search for something to do near you or just stay at home so it's cheap. Whichever decision you make, we're sure the two of you will have lots of fun just being in each other's company! To us, the most…